TOP
>
Research Activity
> Research on climate and environmental change with advanced climate modeling
Research on climate and environmental change with advanced climate modeling
The aims of this research are: 1) to develop advanced earth system and regional climate models for 3high-accuracy projection of climate and environmental change in relation to global warming; 2) to elucidate the processes and mechanisms of climate change and climate material-cycle interaction; and 3) to investigate the predictability of regional climate phenomena bringing extreme weather events. The results are expected to contribute to IPCC Reports and JMA's climate and environmental services.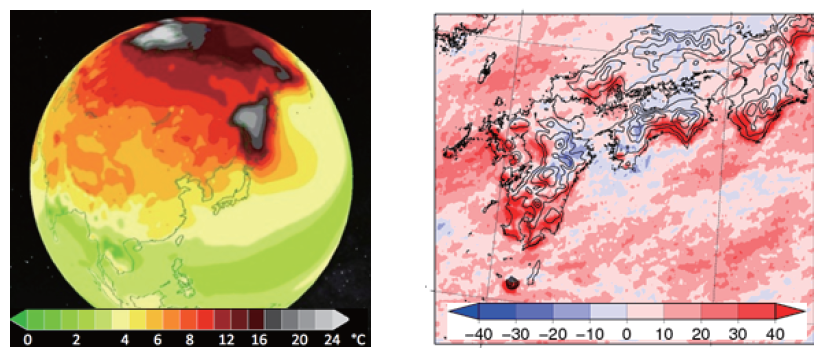 Left: Global surface air temperature changes projected by the MRI Earth System Model (end of the 21st century minus the pre-industrial era). Greater temperature rises are seen in the high-latitude Northern Hemisphere, especially over the Sea of Okhotsk, with increases of up to nearly 20 degrees due to loss of sea ice.
Right: Annual frequency change in precipitation events exceeding 100 mm/day as projected by the MRI Non-Hydrostatic Regional Climate Model (end of the 21st century minus the present). Increased heavy precipitation frequency is seen mainly on southeastern to southwestern slopes of mountains in western Japan.