TOP
>
Research Activity
> Research on assessment and prediction of volcanic activity based on geodetic observation
Research on assessment and prediction of volcanic activity based on geodetic observation
Geodetic observation is seen as a promising approach to volcanic activity assessment, which involves clarifying the accumulation and migration of subsurface magma. It is also important in terms of hazard mitigation to develop volcanic activity scenarios (i.e., assumed sequences of change and transition in volcanic edifice deformation and other volcanic phenomena). The aim of this research is to contribute to JMA's Volcanic Warnings by studying subsurface magma activity using geodetic observation data and improving volcanic activity assessment and scenarios.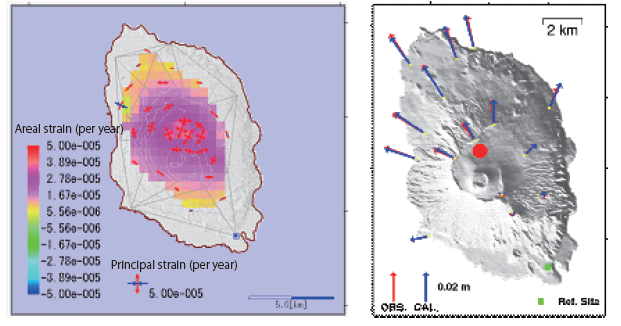 Left: Volcanic deformation of Izu-Oshima as determined from GPS observation (cumulative areal and principal strain from October 2012 to March 2013) showing inflation of the volcanic edifice from slightly north of the island's center outward.
Right:Based on volcanic deformation modeling, an inflation source (the red dot) was identified from GPS observation displacement data.