MRI Advanced C-band Solid-state Polarimetric Radar (MACS-POL)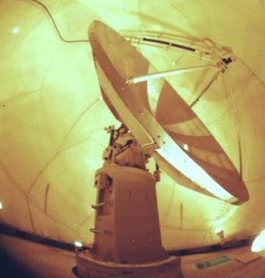 Fig.1 Parabolic antenna of MACS-POL radar with a diameter of 4 m.
Our MACS-POL radar is an advanced, ground-based dual-polarized, Doppler weather radar (Fig. 1). The radar is mounted on top of the MRI building in Tsukuba, Japan. This system employs two solid-state amplifier units to transmit horizontally and vertically polarized waves with high stability. The radar simultaneously transmits horizontal and vertical polarization states and obtains samples of both horizontal and vertical co-polar returns. The polarimetric capabilities of MACS-POL lead to improved precipitation and wind estimates over what is available on conventional radars. In addition, we are developing algorithms to compute and monitor in real time the low-level humidity that are essential to the development of convective clouds from the radar data along with other remote sensing technologies including GPS, as well as real-time identification algorithm of hydrometeor types and tornadoes.
A sample of tornado identification with the radar is shown in Fig. 2. On 6 May 2012, a F3 tornado passed across the north part of Tsukuba, causing devastating damages and loss of life in that region. The figure shows horizontal distributions of (a) reflectivity (Z) and (b) differential reflectivity (Zdr) of the convective cloud that spawned the tornado. An arrow in each panel indicates the location of the tornado. The observation of Zdr (Fig. 2b) shows that spherical materials are dominant at the center of the tornado, suggesting the existence of tumbling debris lifted up by the tornado.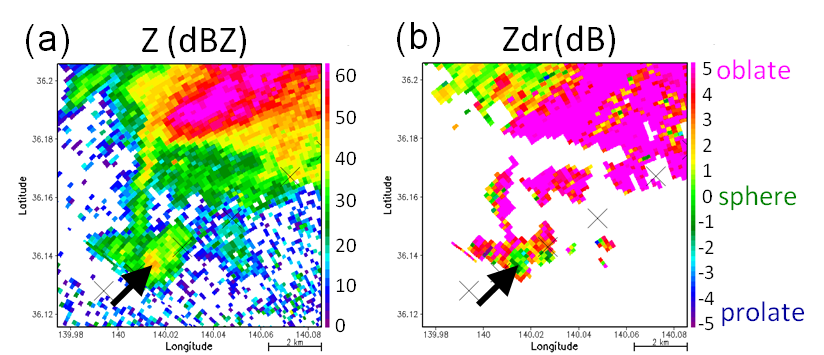 Fig.2 Horizontal field of reflectivity (a) and differential reflectivity (b) obtained from the MACS-POL observations at 12:43 JST on 6 May 2012. Arrow in each panel indicates the location of the tornado.